Key Driving Factors for Singapore's Property Market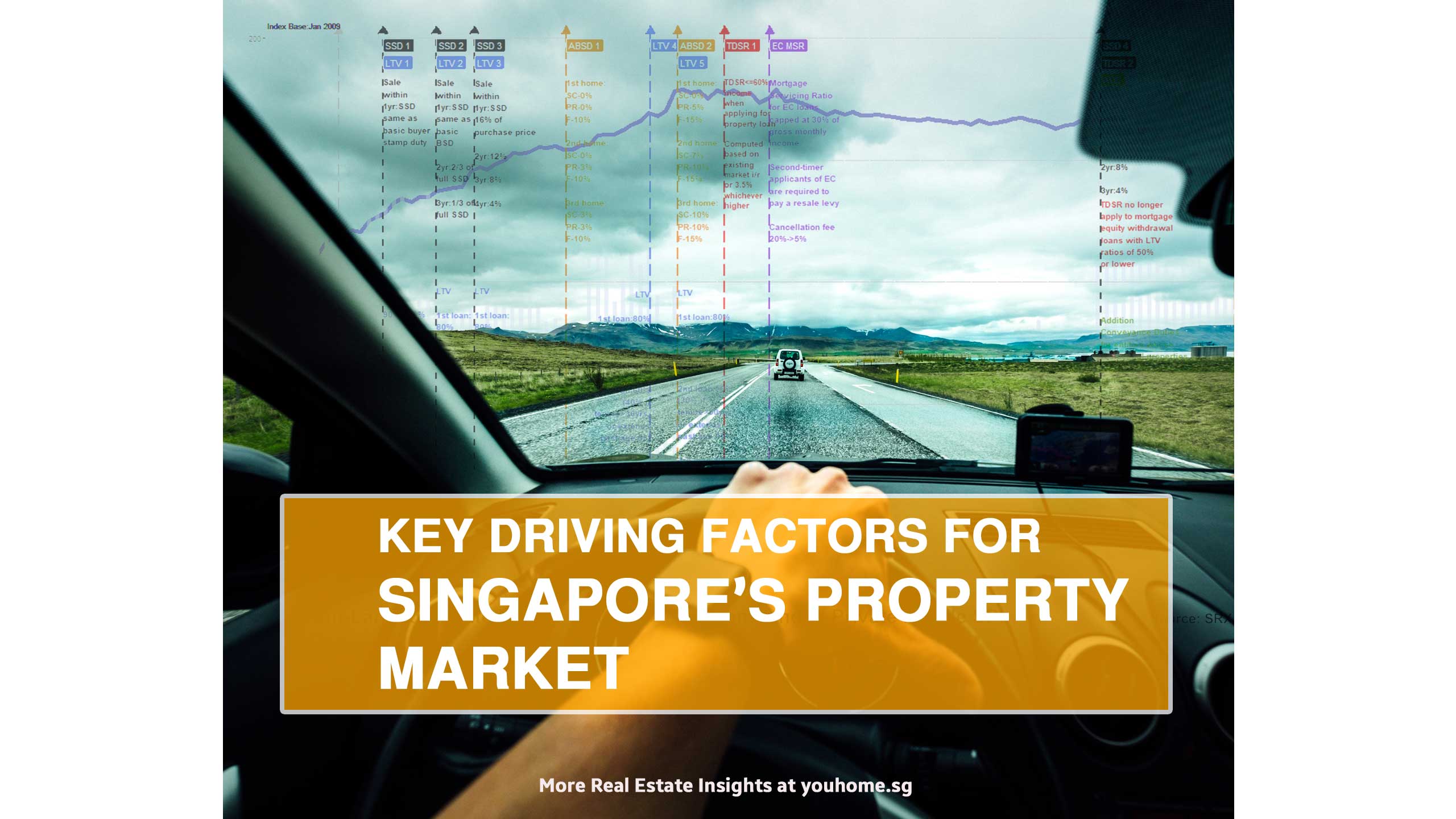 The fears and uncertainty amidst this pandemic are real and concerning to many – especially new property investors who are wary of all the unknowns.
With less than positive news about the economy and unemployment rates on the rise, it is understandable why many new property investors are fearful of getting into the market now.
On that note, I felt it would be a great opportunity to share insights on some of the key driving factors for Singapore's Property Market.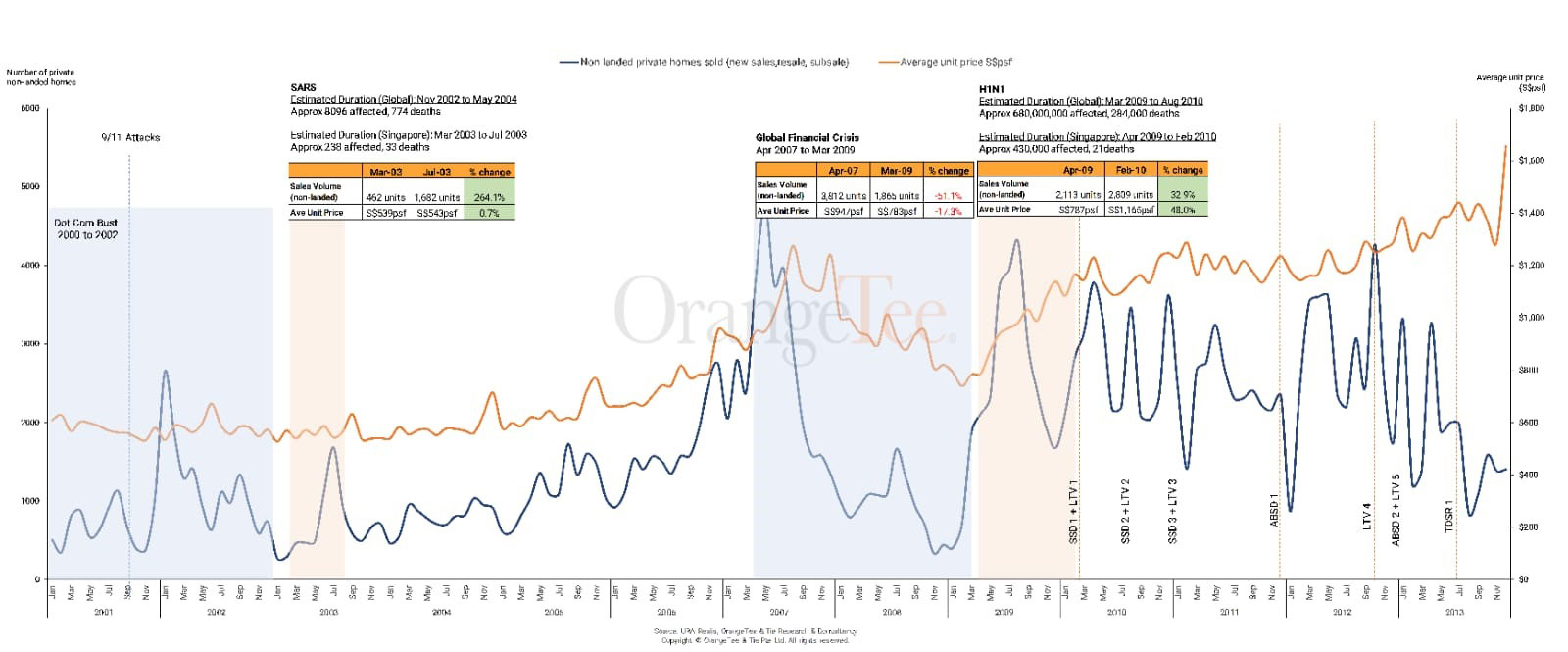 If you are believer in trends, looking at this chart on Singapore property market will help to put your mind at ease.
Like any other cycles, we see the private residential property price index go through its fair share of dips and peaks.
Remember the major economic upheaval in the 1997 Asian financial crisis, and the Global financial crisis of 2007-2008?
They are but blips in the bigger picture. The key here, however, is the clear overall uptrend.
The common warnings during any economic crisis in the past and now, will be about how the property market will enter a glut and stagnate.
This fear-mongering will definitely scare off property investors who have not done their homework or are looking for a quick win. But the trends show otherwise.
Who do you trust? The real numbers or someone's opinion?
Familiar with the common economics principal of supply and demand? We explained this in detailed in our previous article What Does It Mean To Buy Property At The Right Time.
"If there is a decrease in supply of goods and services while demand remains the same, prices tend to rise to a higher equilibrium price."
How does this affect the Singapore property market you may ask?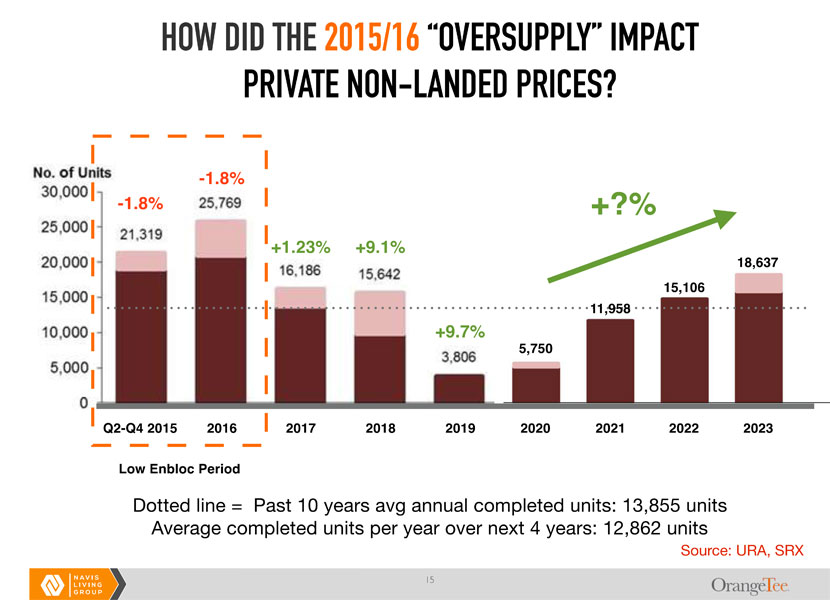 The dotted line represents the average past 10 years of completed private non-landed properties which is 13,855 units.
How does this translate into property prices?
Property price trends show us that in 2017-2019, as the completed property supply numbers came down, prices started to appreciate significantly.
A market correction for the under-supply in the recent years. This is a trend that is likely to continue, at least into the immediate future due to the under-supply expected this year and next.
Combined with the effects of a recovering economy post-pandemic in the near future, this could fuel new heights of property purchases in the next couple of years.
Do you have a relative or friend who have their eyes on upgrading to a private non-landed property?
Chances are that you will know someone like that. In Singapore, many of us worked hard and constantly upgrade ourselves.
Hence, upgrading our homes are also a common phenomenon.
Especially when they are in their mid-30s or 40s, have more disposable income on hand and are looking for a second home befitting of their new economic status.
This is not just a hypothesis. The numbers reflect this too.
The chart above shows how the trend of increasing numbers of HDB flats reaching their minimum occupation period (MOP).
Which means they can now purchase a second home, and the trend is that more owners are making the upgrade.
Our numbers show us that more than 3 times the number of BTO owners are looking to upgrade to a private non-landed property.
So, what does this mean for the future?
This is due to a large supply of BTO from 2012 – 2014. This means we can expect a lot more of these HDB upgraders on the lookout for their second home.
With a potential demand boost, combined with the under supply we discussed earlier, we can expect a significant appreciation and growth in property prices.
In fact, based on a Morgan Stanley Research report, 46% of private home sales are made up of these HDB upgraders we have been talking about.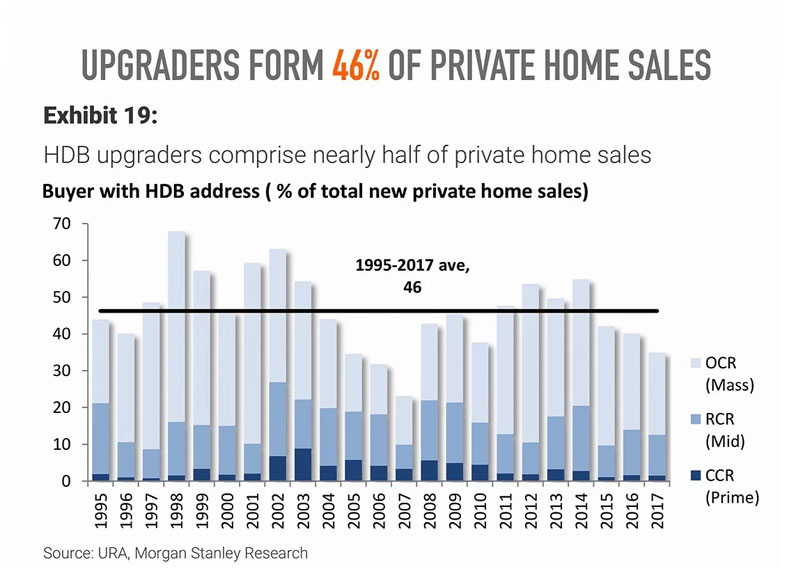 Additional Driving Factors currently in play
Singapore's cooling measures
As we know, cooling measures in Singapore kicked in since January 2013.
It has proven to be effective as we have not seen significant numbers of homeowners defaulting on their mortgages.
Cooling measures such as the TDSR (Total Debt Servicing Ratio), Mortgage Serving Ratio (MSR), Additional Buyer Stamp Duty (ABSD) and Seller Stamp Duty (SSD) have changed the landscape of property investment and behaviours of property investors alike.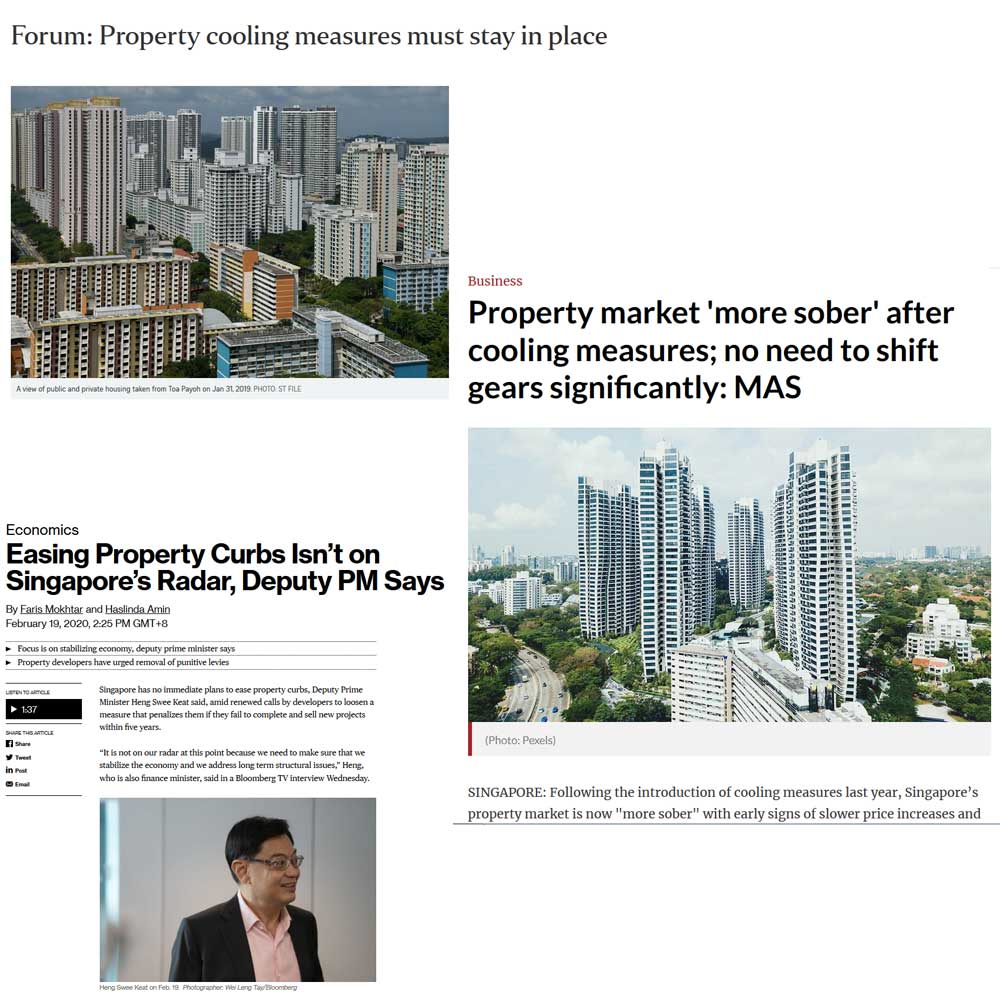 New Launches attractive discounts with virtual viewings in play
There is no doubt that an actual show flat will provide an up-close sense of the unit, virtual viewing can also offer most buyers a good feel of the house.
Some buyers would not mind purchasing despite not seeing the actual unit.
Other than its tangible factor and interior visualization at the showroom, most of the decision-making factors for example, the unit's facing, floor level, layout, facilities can be made without being physically at the show flat.
Besides, virtual viewings and tours are becoming a norm since Circuit Breaker in Singapore.
It is generally welcomed and accepted by most who are working from home, especially with kids.
Temporary Relief Measures
ABSD remission period is extended for the sale of matrimony homes
Singaporean couples are typically given six months period, upon purchasing their 2nd matrimonial home, to sell their first matrimonial home.
For completed property, it will start from the date of exercise. For uncompleted property, it will either start from Temporary Occupation Permit (TOP) or Certificate of Statutory Completion (CSC), whichever is earlier.
So, for couples who has failed to qualify for ABSD refunds from Feb 2020, this is excellent news!
They are no longer required to rush and put up their first matrimonial home for sale – no panic selling.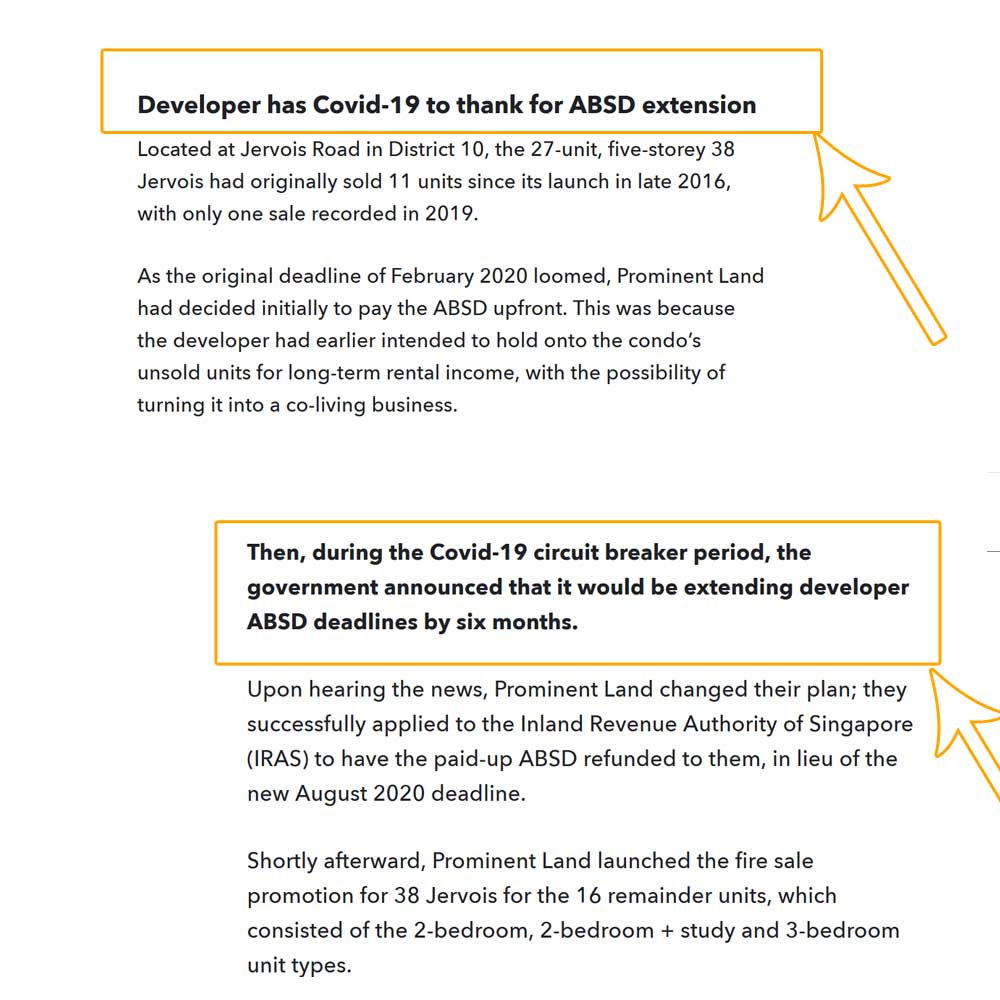 Extension of sale timelines for Property Developers
Similarly, developers are compelled to sell all units within a strict time frame. Otherwise, they will be confronted by either ABSD or Qualifying Certificate (QC) penalties.
With the extension of timelines, it allows market conditions to stabilize naturally. In turn, prevent unnecessary panic selling by developers which is very likely to create upheaval and a detrimental cascading effect in the market.
As a result, we may be able to see more discounts given by developers.
Mortgage deferment scheme
The Monetary Authority of Singapore (MAS) also announced in March 2020, a relief measure for homeowners to defer their home loan repayment and insurance premium payments.
With this flexibility of deferment, property owners are secured, and property market is kept stable – again, no panic selling of homes during this challenging period.
Foreign interest in the Singapore Market
Foreign interest from Mainland Chinese has been the leading foreign buyers in recent years and they may just continue to remain at the top.
While China's economy is likely to experience a slowdown this year, there are still growth in specific sectors such as IT, biomedicine, and healthcare.
Not to mention the recent global lockdowns has seen an explosive growth and surge in production and consumption of e-commence goods – China being the powerhouse in this area.
Recent episodes in Hong Kong will also serve to as an encouraging factor for Chinese buyers to consider Singapore's property market.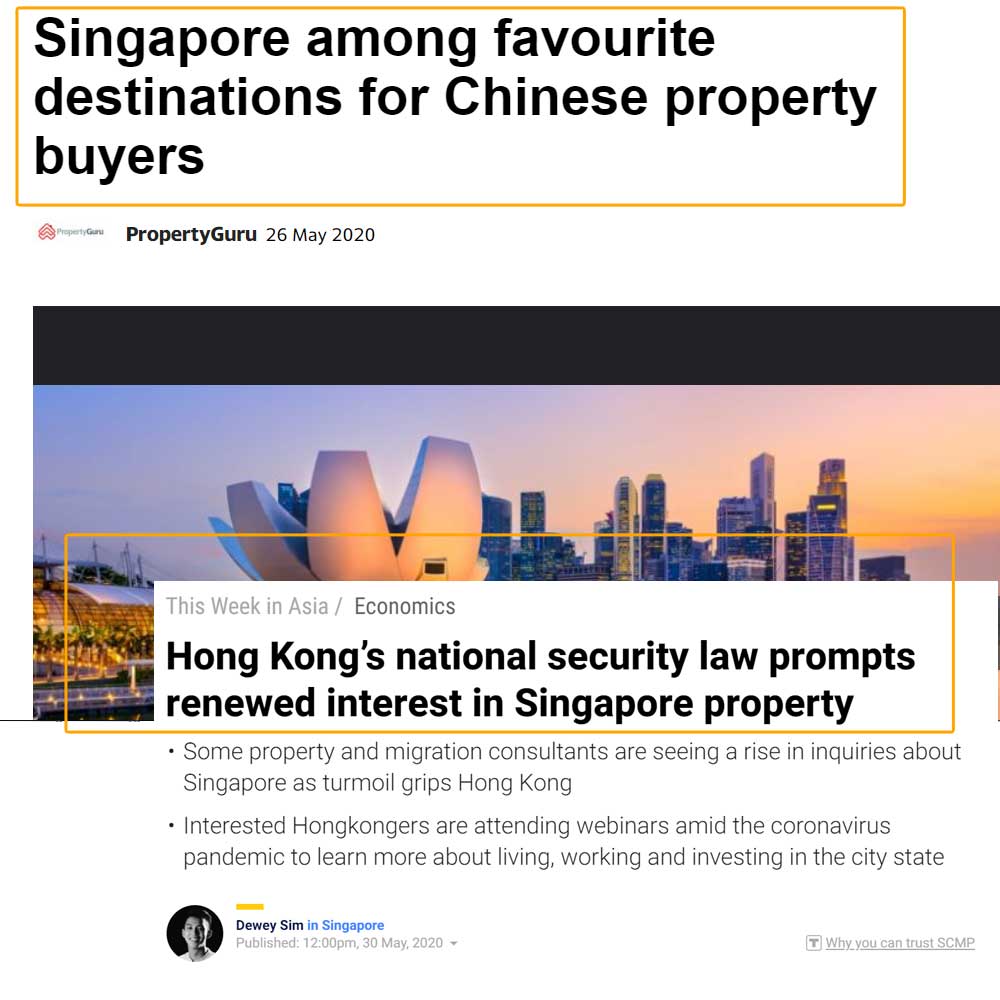 I will provide: 
-An IN-DEPTH Financial calculation
-Highly relevant investment insights
-A curated list of the best buys in today's market with good upside potential and minimal risks
-Proven methods and steps
Lets get in touch today to kickstart your property wealth planning journey.
Have you learned something New Today? Please help to share.
I have successfully helped hundreds of homeowners just like you since 2010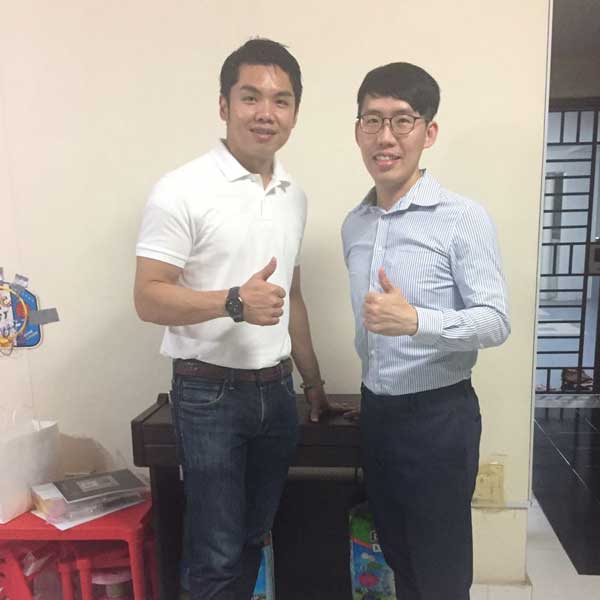 Mr Ang
As a investor interested in taking advantage of the booming property market in Singapore, I needed a realtor with in-depth knowledge of the local market. Using his understanding of the various sectors of the market, Rick generated a investment progression report and we decided to buy a condominium in a choice area with huge potential for multiple returns in the future. Thanks Rick, I will definitely be doing business with you for a long time!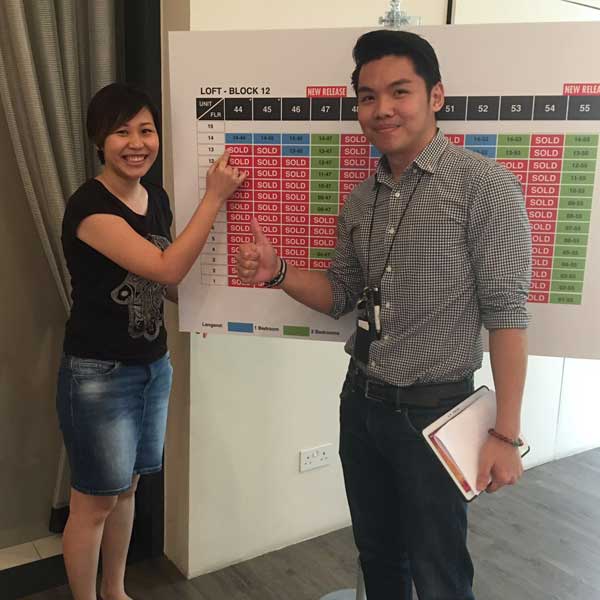 Ms Claire
I am writing in to compliment Rick Huang for his invaluable service, for the sale of my Esparina Residences. The process was complicated but he was able to empathize with my situation and also provide brilliant advices that ensue the smooth transaction. In all, I am appreciative with his professionalism and human touch in this journey. Thank you!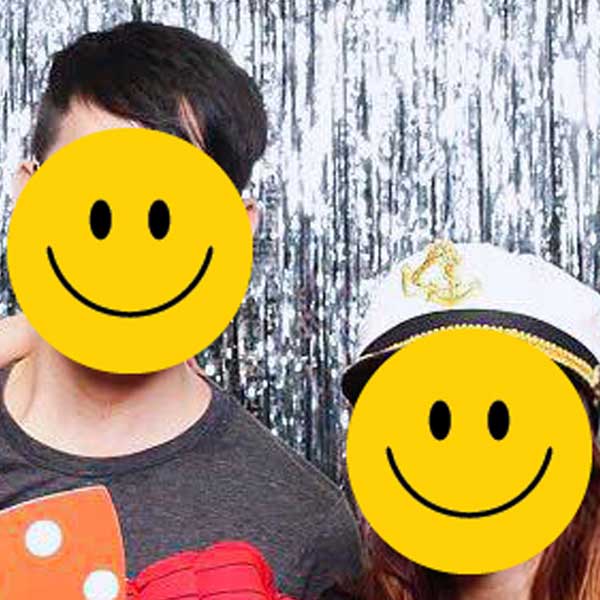 Ms Ho
I was sceptical about engaging a friend to sell our house. However, Rick has put himself out on so many levels just to ensure everything went smoothly, promptly and correctly at every stage. I trust Rick and would surely recommend him to anybody seeking to buy or sell a home! I do not usually post reviews but this is worth investing my time. Thanks once again..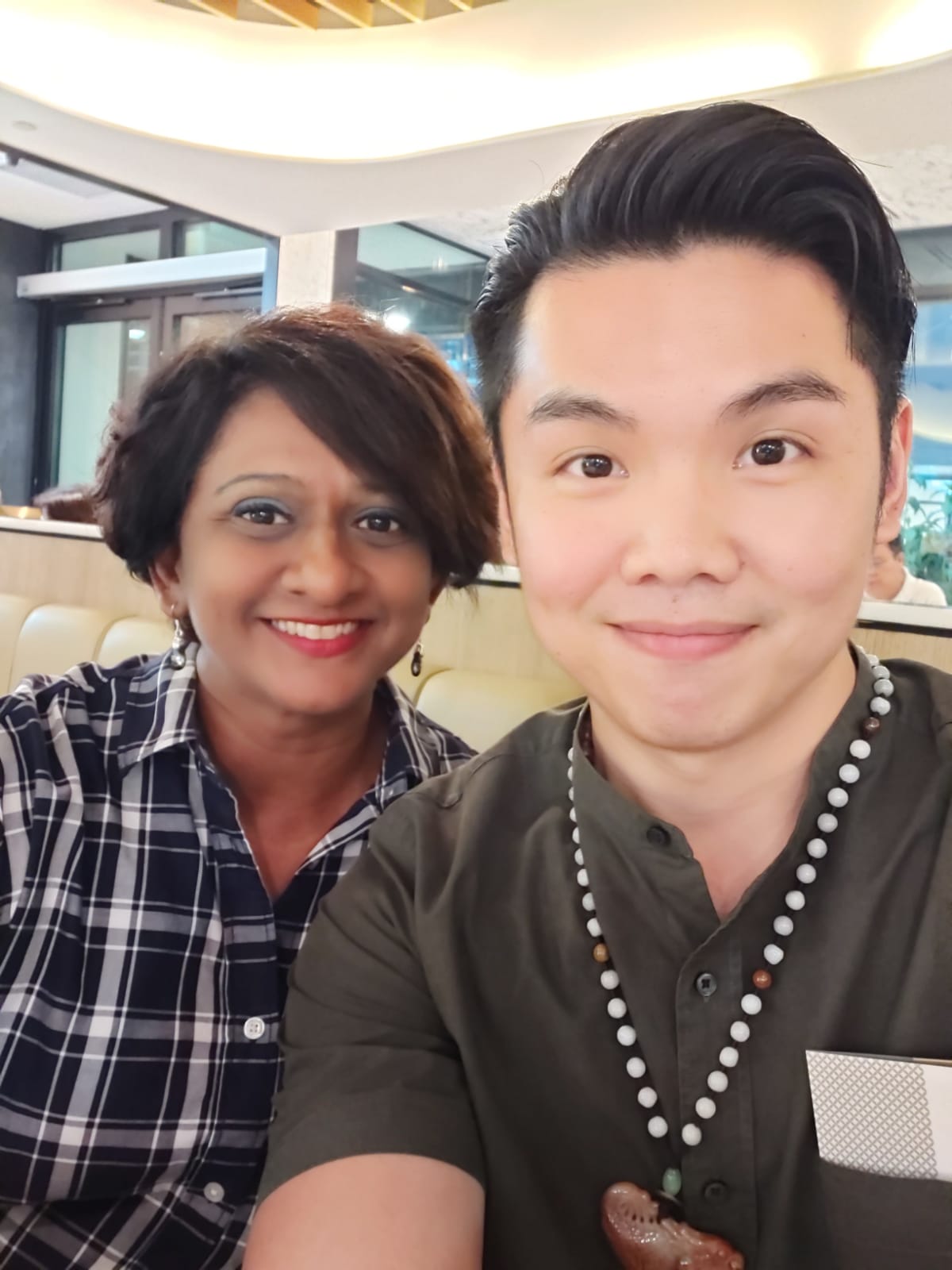 Ms Malar
His service is beyond my expectations. Always going the extra miles to serve his clients.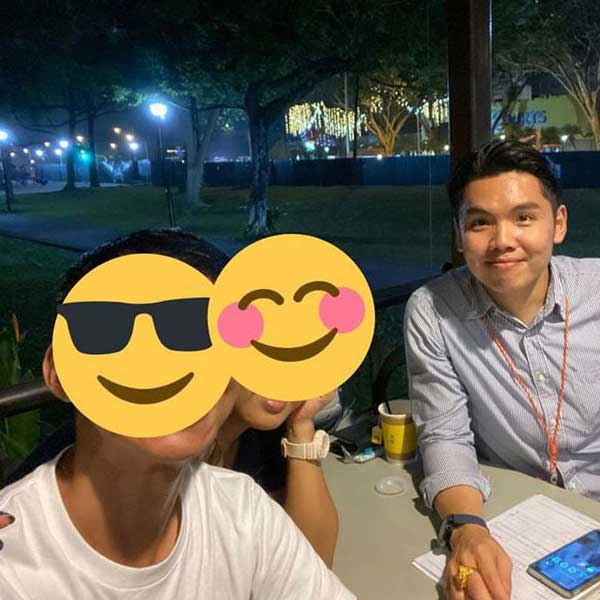 Ms Jo
My husband and I started our home-search by ourselves but was met with issues soon enough as we were unsure of the important things and areas to look out for and we were also not experienced in the negotiation process with the seller's representing agent. Soon after hearing our problems, I was introduced to Rick by a friend. The entire buying process quickly became swift and smooth; Rick understands our needs, puts our personal interest first, seals us a good deal and educated us along the way about the important things and areas to pay attention to. Thumbs up to Rick and we will recommend him to anyone for their home-search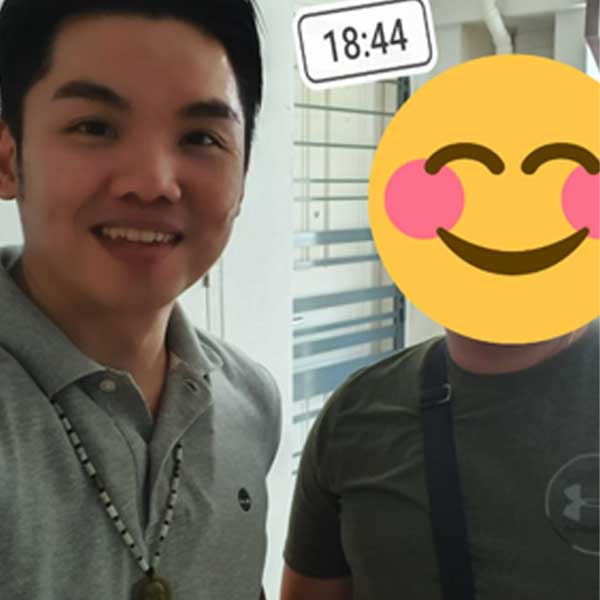 Mr Eddie
"In short, Rick did an amazing job. He sold our house at a higher than initially discussed price and got us a good deal for our purchase. Both my wife and I are impressed with his professional yet friendly approach. We will definitely work with him again and recommend him to anyone."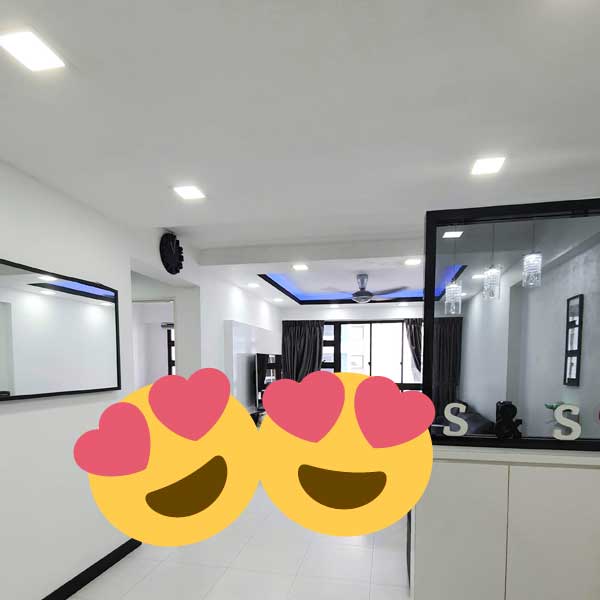 Mr Liew
Rick is a very down to earth person. No hard sell or pushy technique. He helped us in planning for upgrade and showing us how to invest in property with in depth property analysis report.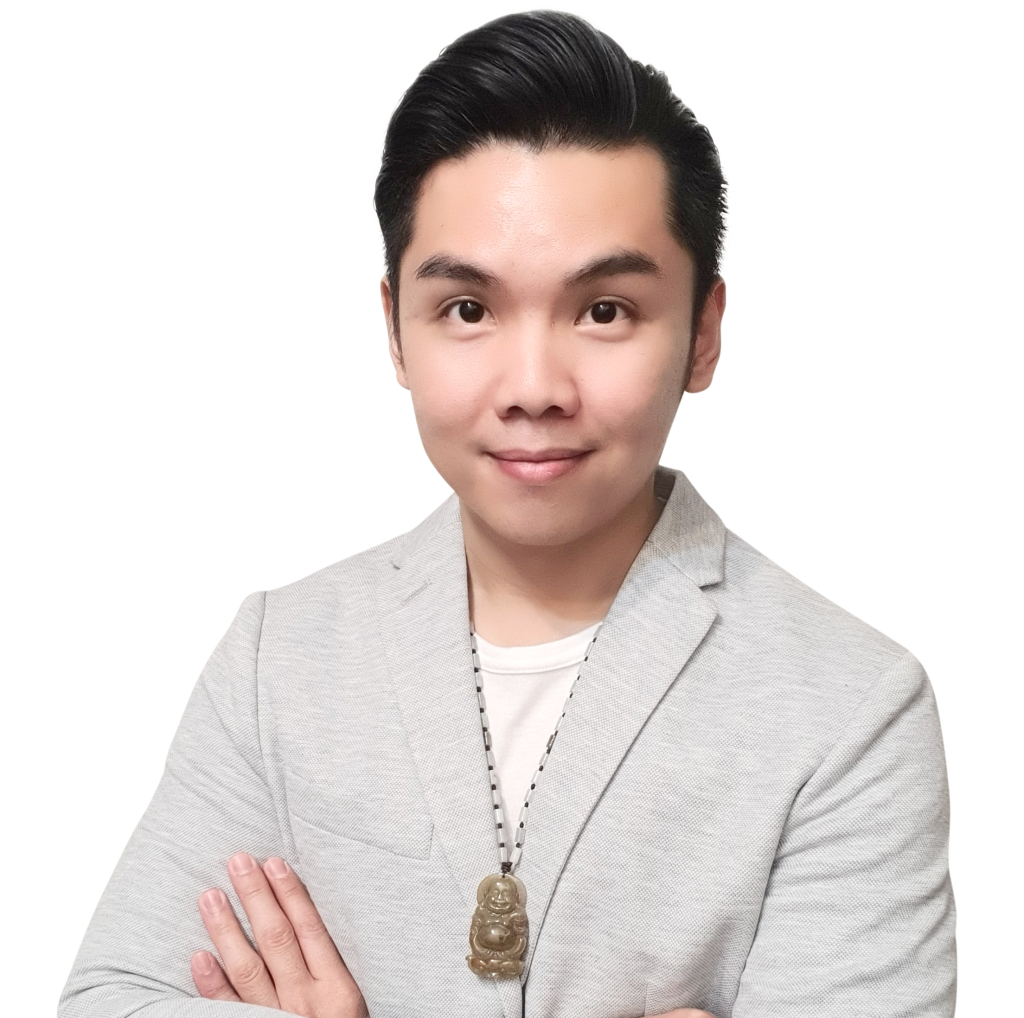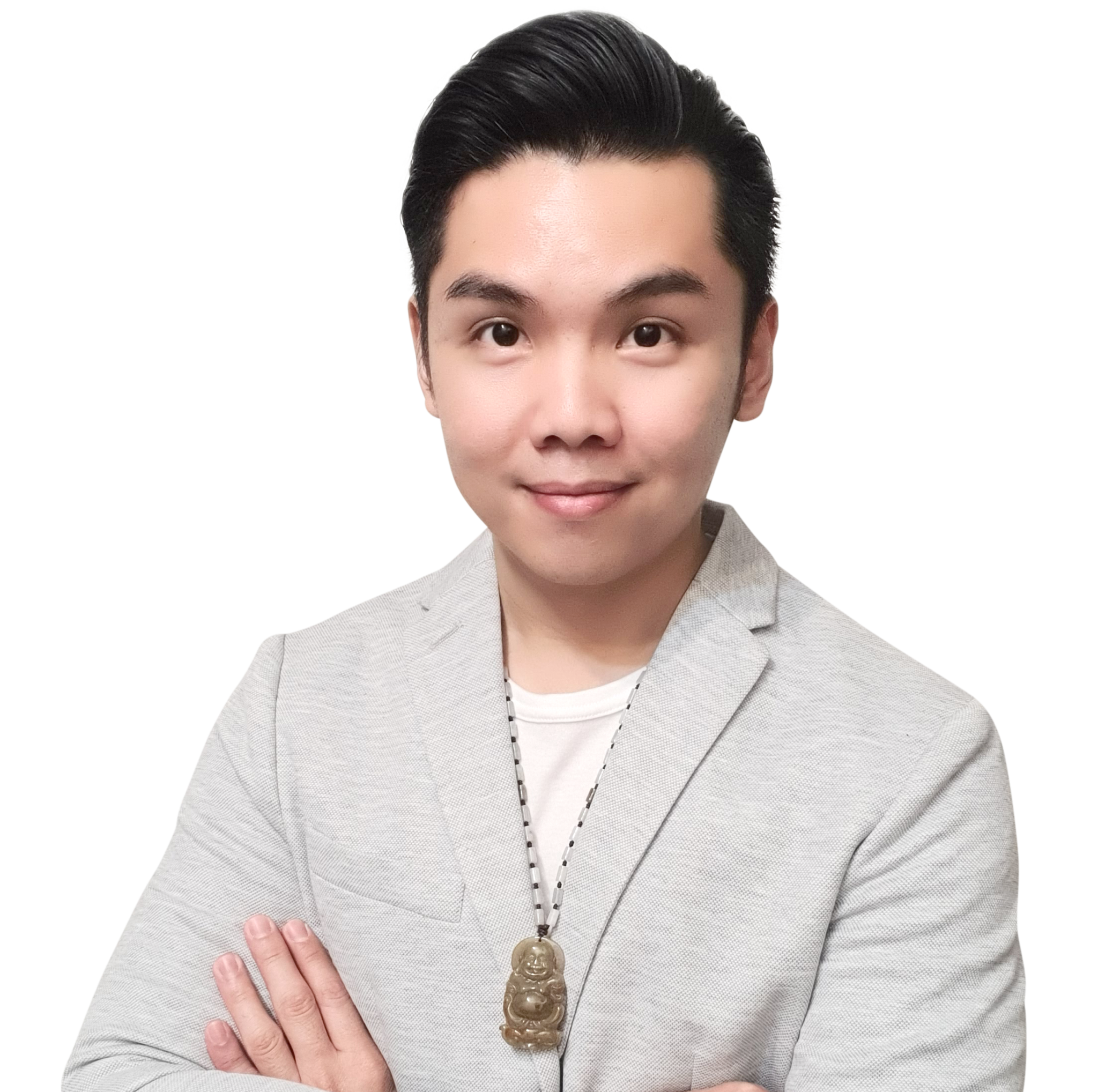 Rick Long, Associate Division Director of Huttons Asia Pte Ltd, has been in the Real Estate industry for more than a decade.
He is driven, committed and is enthusiastic about real estate investments.
Today, he leads Team Youhome.sg, and together, he aims to provide his clients with the best experience in their property journey.
The team focuses on understanding the client's finances and needs and is determined about delivering the best solutions and results for them.
Amidst the hustle and bustle, Rick enjoys quiet time and indulges himself in the intricate art of tea-brewing and teapot appreciation.
He would also take this chance to energize himself and reflect on his personal development and areas of improvement.
He is also a proud fur daddy to 2 rescue kitties and loves spending his free time with his wife and furbabies.